Empower Your Business with Microsoft 365 Copilot and Enterprise-Grade Security
As your trusted Microsoft partner, Coretek unlocks the true potential of Microsoft AI
Our cutting-edge solutions leverage the power of the Cloud to enable seamless integration that enhances your business' processes with unparalleled efficiency. With a focus on security, we ensure your data is safeguarded at every step – allowing you to harness the full power of AI confidently.
---
How Microsoft 365 Copilot Optimizes Your Business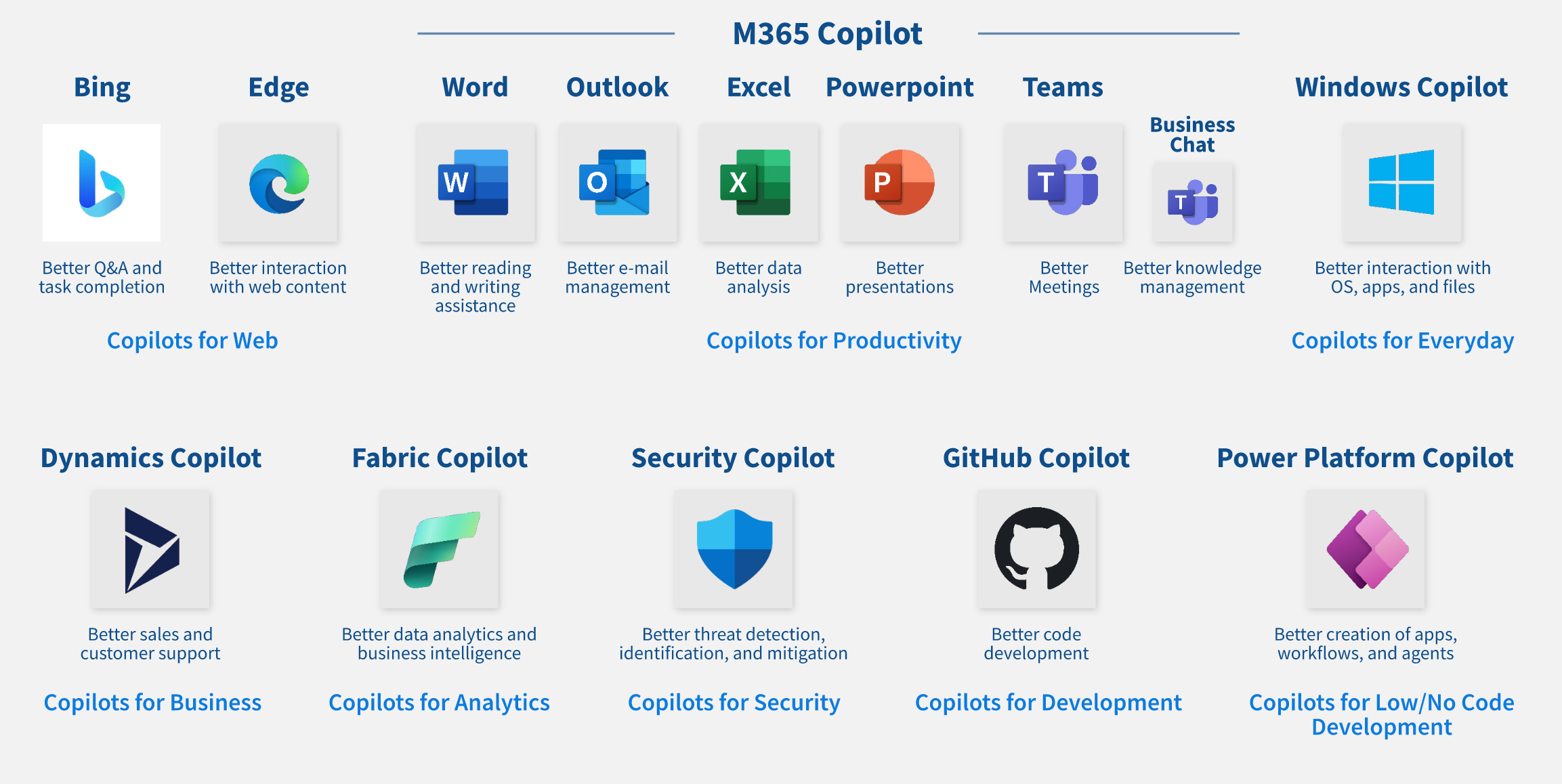 1
Bing Chat Enterprise
Enhance your customer support and engagement with Bing Chat Enterprise, powered by Microsoft Azure. Coretek's expert team will help you integrate this intelligent chatbot into your systems, streamlining interactions and delivering instant responses to your customers' queries. Bing Chat Enterprise improves customer satisfaction, reduced response times, and increased operational efficiency for your organization.
2
M365 Copilot
Take your Microsoft 365 experience to the next level with M365 Copilot, enabled by Coretek on Microsoft Azure. Our seamless integration of M365 Copilot into your existing ecosystem supercharges productivity, collaboration, and communication. Intelligent automation, personalized insights, and simplified workflows empower your team to work smarter, not harder.
3
Security Copilot
We understand that data security is a top priority for your enterprise. That's why we provide a comprehensive security solution to safeguard your critical assets with Security Copilot, fortified by Microsoft Azure. Our experts will ensure your business stays protected from cyber threats and data breaches by deploying advanced threat detection, real-time monitoring, and automated response mechanisms.
4
Sales Copilot
Drive revenue growth and boost customer satisfaction by empowering your sales team. Coretek's seamless integration enables intelligent lead generation, automated sales processes, and personalized customer experiences. Maximize sales efficiency and effectiveness with Sales Copilot, leaving no potential opportunity unexplored.
5
Git Copilot
Optimize your coding workflow on Microsoft Azure, while accelerating your software development lifecycle. Coretek's implementation of Git Copilot enables smart code suggestions, improves code quality, and increases developer productivity. Embrace the power of AI-driven development and watch your projects take flight effortlessly.
Choose Coretek – Your Trusted Microsoft 365 Copilot Expert
As a trusted Microsoft partner, Coretek brings unparalleled expertise in Azure and new AI technologies, ensuring you get the most out of your Microsoft product investment. Our team of experienced professionals will guide you through the implementation process, providing comprehensive support and training to ensure a smooth transition. Your data is in safe hands with Coretek. We implement robust enterprise-grade security measures to protect your sensitive information from potential threats. We understand that every business is unique. That's why our solutions are tailored to meet your specific needs and objectives, providing a truly personalized experience vs. cookie-cutter answers.