Genesys Hurley Cancer Institute Case Study
Improved Productivity with Managed IT Services
Coretek Deploys Varian's First Cloud-Based System
Customer Profile
Genesys Hurley Cancer Institute
The Genesys Hurley Cancer Institute is a joint venture between Genesys Regional Medical Center and Hurley Medical Center, two Flint, Mich. hospitals that decided to work together to provide excellent care for cancer patients. The treatment center is housed in a $9.6 million, two-story facility built adjacent to an existing 17,000 square-foot combined radiation oncology center. This state-of-the-art facility focuses on providing unsurpassed excellence in patient care. Its goal is to be recognized as the premier provider of cancer care in the region. Annually, GHCI serves over 17,000 patients with a staff of nearly 50 in the new 32,000 square-foot facility.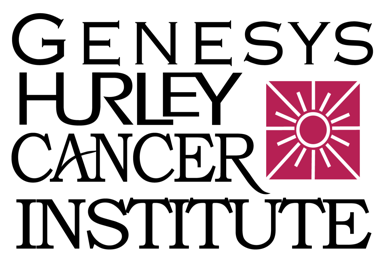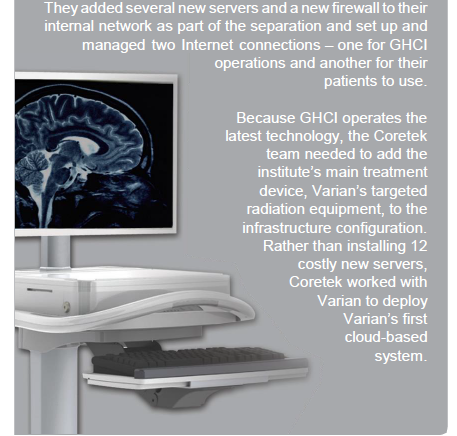 Business & Technology Challenge
Initially, both hospitals shared technology, applications, and information with the new cancer center. At this time, Genesys Regional Medical Center was the sole provider of IT services and network support for all three entities. However, in July 2012, the board of directors decided that Genesys could no longer handle the growing institute's needs and that GHCI would benefit from operating its network and IT. Many of their systems were antiquated. GHCI's computers were running on Windows XP, and applications were loaded on individual machines. Devices were vulnerable to security issues and potential loss of information as Genesys did not have a disaster recovery or backup strategy. Since the cancer institute was a separate but affiliated entity, acquiring computer support took longer than necessary to fix problems. Additionally, GCHI relied on an older PBX for voice communications and shared internet access with Genesys, making it challenging to utilize the computers effectively to reach full productivity. Knowing IT was not their expertise and separating its systems from the two hospitals would be complex, Genesys Regional Medical Center executives introduced GHCI to Coretek, who had worked with Genesys previously. GHCI needed end-to-end technology infrastructure support to support end-user devices, install a communications and data network, provide desktop and application support, and create and install a backup and disaster recovery plan and system.
Coretek Solution
The first challenge was creating a plan for separating GHCI from GRMC and HMC while still maintaining secure access to several of their applications. At that time, GHCI did not manage its network infrastructure, servers, or email system. Coretek first proposed how to migrate users to new computers and upgrade from Windows XP to Windows 7. This solution allowed both physicians and staff to handle high-resolution images required to perform their jobs. Adding to its complexity, each desktop needed to be custom configured for a particular user or location. Next, Coretek implemented new servers and deployed Microsoft's Active Directory Services with Hyper-V to virtualize its servers. Microsoft's StorSimple appliance handles GHCI's backup and disaster recovery system leveraging Azure storage. Coretek also deployed Intune, Microsoft's cloud-based device management and security service, which keeps the desktop secure and applications up to date.
Coretek provided full support and consulting team to gather information from physicians, staff, and administrators critical to a successful network cutover. After determining where each of the 50+ applications GHCI needed to operate resided, the Coretek team ensured they addressed security issues for each cutover as the application was copied, backed up, and relocated to a new server. They added several new servers and a new firewall to their internal network as part of the separation and set up and managed two internet connections—one for GHCI operations and another for their patients to use. Because GHCI operates the latest technology, Coretek needed to add the institute's primary treatment device, Varian's targeted radiation equipment, to the infrastructure configuration. Rather than installing 12 costly new servers, Coretek worked with Varian to deploy Varian's first cloud-based system.
As part of the technology upgrade, physicians received tablet computers to move around the office freely. Lastly, Coretek recommended that GHCI deploy Office 365 as their email solution rather than install an Exchange server to handle mail. In addition to saving on hardware, GHCI also lowered its licensing costs utilizing the cloud-based mail system.
Results
"Even though our operations aren't very large, we have a highly complex system with some applications hosted through Genesys that needed special attention," said IT Administrator Tim Nemecek. "Coretek was instrumental in creating a plan and putting together the technology infrastructure and network that makes us very efficient." With Coretek managing their IT, support calls have been reduced and are handled promptly, enabling GHCI staff to be more efficient. Applications, such as QuickBooks and peripherals, like printers, are hosted on servers rather than a single computer reducing the number of outages. Previously, employees created workarounds to solve problems, which often resulted in more support calls. For example, when an employee could not print something, no one knew why. "The staff now has dependable technical support," said Nemecek. "Previously, a support ticket might get a response back in a week. Now, Coretek provides a response in several minutes to an hour depending upon the severity of the request."
Response times are critical when dealing with fragile patients and complex treatment systems. "For example, we use a pharmacy application to print prescriptions," said Nemecek. "If that desktop disappeared or was destroyed, we wouldn't be able to deliver medicine. Coretek took that application and put it on a server, so it's backed up and highly available. They did that with many of our applications." Having Coretek handle all technology support frees up staff and physicians to concentrate on what they do best: Serving and treating patients with the latest medical treatments and technology. Coretek has years of experience helping healthcare organizations, which meant their team was up to speed on GHCI's technology needs. "Coretek is certified in all the latest technologies from Microsoft and was able to proactively recommend appropriate services and make sure we were HIPAA compliant," stated Nemecek. "They helped us move to the cloud for several services, which resulted in significant operational savings."
With the basic technology infrastructure and Internet and phone networks installed, Coretek is helping GHCI determine how to implement Electronic Medical Records, which they couldn't implement previously due to security issues with the old network. Because GHCI committed to patient comfort, which included internet access during treatment, there was no affordable way to separate internal from public access. However, the new, more robust network allows GHCI to segregate traffic and portion of its internal traffic, so physicians and staff have secure wireless access.
---