Home
/
Coretek News
/
Coretek Earns Web Application Modernization Advanced Specialization
Coretek Earns Web Application Modernization Advanced Specialization
What is an Advanced Specialization?
Microsoft Partners with active Gold Competencies that demonstrate deep knowledge in specific technologies can attain advanced specializations. These specializations ensure that a partner meets the highest standards for delivery and support for Microsoft customers.
Requirements for the Web App Modernization Advanced Specialization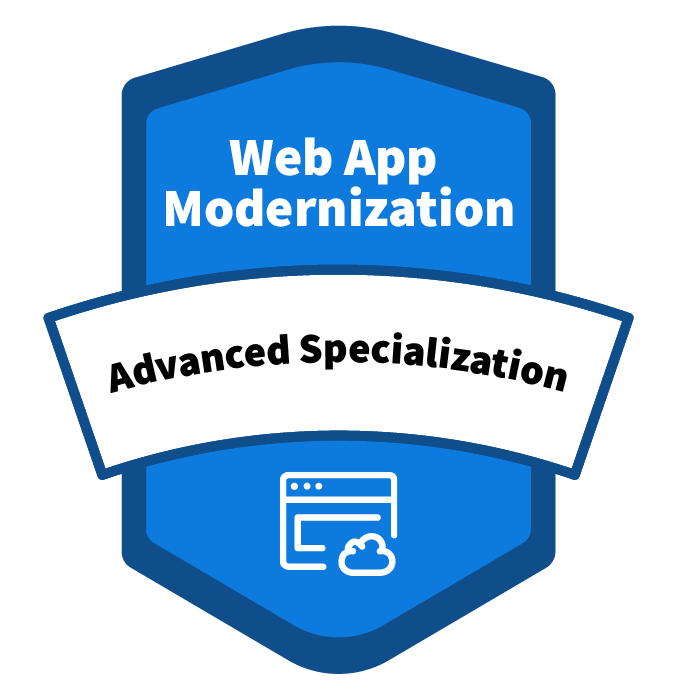 To earn the Web Application Modernization Advanced Specialization partners must validate expertise in modernizing, migrating, and deploying production web application workloads, applying DevOps practices, and managing application services in Azure. The specific requirements are that a partner must:
Have an active Gold Cloud Platform Competency
Have at least three team members who have passed certifications for: Azure Developer Associate, DevOps Engineer Expert, and Azure Data Engineer Associate.
Have met Microsoft's requirements for Azure Consumed Revenue from at least three customers, for the previous three months.
Complete a detailed audit conducted by a third-party auditor

---
"As customers continue to modernize their applications in Azure, it is paramount that our team remains at the leading edge of advancements in cloud technology to support their individual cloud journeys. Our App Modernization Advanced Specialization demonstrates our commitment to continuous improvement and validates our team's rank among the top partners in the Microsoft Azure ecosystem."

—Clint Adkins, Azure Practice Director
---

Coretek's Commitment to Technical Excellence
As the cloud continues to revolutionize business and the advancements in cloud technology develop more rapidly, Coretek maintains a commitment to their core focus of helping customers solve the most challenging problems with the cloud. With the support of a long-standing and strong partnership with Microsoft and the dedication to hiring and retaining the best talent, Coretek ensures success at the highest level in the industry. In addition to their newly added Web Application Modernization Advanced Specialization, Coretek also holds an Advanced Specialization in WVD—just another reason customers can trust their projects are in highly qualified hands at Coretek.